Texas Hill Country Visitors Guide
Hill-Country.net
Burnet is a popular tourist town located 60 miles northwest of Austin, Texas on Highways 29 and 281. Burnet is only a short drive from Lake Buchanan, Inks Lake and Lake LBJ. Burnet is the County Seat of Burnet County in central Texas.

The Highland Lakes area of the central Texas Hill Country is a well know area for recreational activities such as golf, boating, fishing, camping and sightseeing. It is also listed in the top three areas of the country as a retirement area. The climate is moderate in the winter and it almost never snows in Burnet.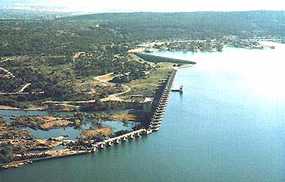 Buchanan Dam photo courtesy of L.C.R.A.
The City of Burnet is going through a period of restoration and many antique and gift stores now surround the Courthouse on the Square. Historical homes are also being restored as antique and gift shops and Bed & Breakfast Inns.

Lodging in the Burnet Area
on the west side of Lake Buchanan
9 cabins, one house that sleeps 16, Forty-one RV spaces, large swimming pool, basketball court, volleyball, horseshoes and washer pits, giant chess, recreation/meeting room, boat ramp, waterfront for fishing.
east side of Lake Buchanan, TX
Nine lakeside acres of lush tree-covered hills and panoramic views. Featuring: beautifully and deliciously prepared organic and natural food, intimate, candle-lit dining, "Sleep Number" (TM) beds, spa and hiking trails, and the finest massages available...anywhere!.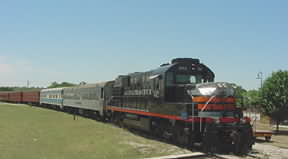 Hill Country Flyer
The Hill Country Flyer is a train that makes regular weekend runs from Cedar Park to Burnet to take tourists out to shop at the antique and gift stores in Burnet, to dine in the local resaturants and and to enjoy Hamilton Creek Park. Call 512-477-8468 for more information. To go to the Hill Country Flyer Web Page Click here.


Highland Lakes Squadron - Commemorative Air Force
Check out the Highland Lakes Squadron - Commemorative Air Force at Kate Craddock Field Airport, Burnet, Texas; Call 512-756-2226 for more information. To go to their web page Click here.
Vacation Rentals

Lake Houses, Cabins For Rent
and RV Spaces are needed.
Our viewers are looking for vacation rentals on Hill-Country.net. If you have a vacation rental, we can bring you renters.

For information on this Website

Copyright © Highland Lakes Web Pages, LLC