Texas Hill Country Visitors Guide
Hill-Country.net
Located 55 miles northwest of Austin, Texas on Highway 29, Inks Lake is the next lake down the Colorado River from Lake Buchanan. It starts just a short distance from the base of Buchanan Dam. With a length of 4.2 miles and a width of 3,000 feet, Inks Lake is the shortest of the first four lakes but is also one of the prettiest.
There are three towns close to Inks Lake. Burnet is 14 miles to the east of Inks Lake. Kingsland is 7 miles south and Llano is 17 miles to the west.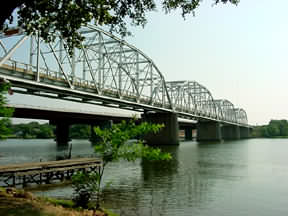 They have recently built a new 4 lane bridge going over Inks Lake which replaced the old Inks Lake Bridge. They are keeping the old bridge as a walking bridge over the lake. There will be no diving from the old bridge or fishing from the old bridge, but the views of the lake, Buchanan Dam, and boating activity are great from the old bridge. A beautiful moonlight walk on the old bridge with the gentle lake breezes makes for a great evening.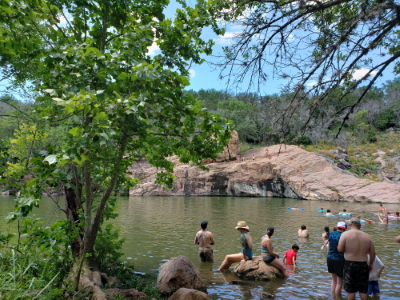 INKS LAKE STATE PARK is a 1,200 acre panorama of cedar and oak woodlands bordering Inks Lake. The park offers swimming, boating, fishing, hiking, BBQing and even golf. They have 7.5 miles of hiking trails. Bring your camera to get terrific photos of the deer, turkeys and other wildlife.
Planning on bringing your boat to the Highland Lakes?

Clean, Drain and Dry your boat to prevent the spread of zebra mussels and other invasive species.
Looking for a fishing guide?
Vacation Rentals

Lake Houses, Cabins For Rent
and RV Spaces are needed.
Our viewers are looking for vacation rentals on Hill-Country.net. If you have a vacation rental, we can bring you renters.

For information on this Website

Copyright © Highland Lakes Web Pages, LLC