Texas Hill Country Visitors Guide
Hill-Country.net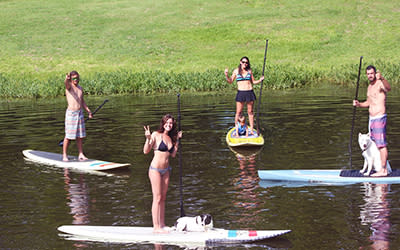 Kingsland has 2 rivers, the Llano and the Colorado, and Lake LBJ, so there is an abundance of water activity. Lake LBJ is normally at a constant level which provides for the best water for waterskiing, jet skiing, boating, fishing and swimming. From Kingsland you can boat up the Llano River, up the Colorado River several miles, and down Lake LBJ all the way to Horseshoe Bay, over 20 miles.
Kingsland is an unincorporated town of about 6,000 people nestled in the Hill Country and Highland Lakes area of Central Texas about an hour northwest of Austin and an hour and a half north of San Antonio.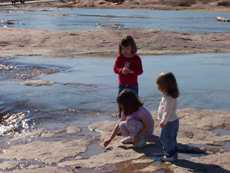 "The Slab" is a popular place to hang out on the Llano River just upstream from Kingsland. There is plenty of sand for sunbathing, picnics, games, etc. The water is shallow and perfect for wading. It is a great place to bring the children. They love picking up the shells.
You will find plenty of places to stay in Kingsland. There are rental cabins along the lake and rivers, waterfront condos for rent, lake houses for rent, motels, and waterfront RV parks.
Nearby Lodging and RV Parks
Lake LBJ - Kingsland, TX
This vacation lake house has it all! Great water, boat dock with electric lift, waterfront deck, large covered porch facing the lake, game room, foosball, air hockey, fireplace, BBQ, 2 fire pits, and more. 2, 849 sq. ft. with 4 bedrooms, 2.5 baths, sleeps 14 in beds.
Lake LBJ - Kingsland, TX
Want a relaxing getaway? Looking for a shady spot to spend the weekend? Come sit by the shore of Lake LBJ in the cool shade at Little Lodge where you can catch your supper or just relax and unwind as the lake breezes gently soothe your senses. Enjoy our shallow, level, sandy-bottom swimming area.
Lake LBJ - Kingsland, TX
Eight cabins at this lakeside resort await you. Located in Kingsland, Texas within walking distance of downtown. Covered boat docks for your boat, an all-weather fishing house, bait sales and more.
| | |
| --- | --- |
| Looking for even more info on Kingsland, TX? Check out our sister site, Kingsland-TX.com! | |
Vacation Rentals

Lake Houses, Cabins For Rent
and RV Spaces are needed.
Our viewers are looking for vacation rentals on Hill-Country.net. If you have a vacation rental, we can bring you renters.

For information on this Website

Copyright © Highland Lakes Web Pages, LLC